February 13, 2005 - 2005 Mass Scholastic State Championship and Grade Championship:
By: Stephen Dann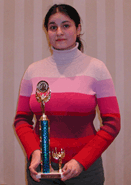 Roza Eynullayeva, 17, of Springfield, won a playoff to determine the state high school singles champion in dramatic fashion last Sunday (2/13) at the Radisson Hotel in Marlboro. In cool fashion, she defeated both Melvin Zhang of Roslindale and Joshua Bakker of Orleans in 10-minute playoff games, to earn the right to represent Massachusetts in the Denker Tournament of High School Champions, Aug. 7-12 in Phoenix, Ariz.
The Barry Spiegel Memorial State Scholastic Singles Finals had four age sections with 10 students each, and the concurrent Gosselin Grade School Championships drew another 118 pupils along with parents and chess coaches galore. Eynullayeva, a senior at McDuffie School, a small private academy in Springfield, is no stranger to top competition, winning the Polgar Invitational of Girls High School Champions last year in Florida, and winning the New York State High School title in 2002 and competing in the Denker tournament that year in New Jersey. For winning the Polgar event, she won a four-year scholarship to the University of Texas at Dallas, but this has not limited her options, as she has applied to 16 colleges, and at this writing has received a $10,000 presidential scholarship to Simmons College in Boston, and is waiting to hear next month from a host of other schools, including Harvard.